Class info:
Held in my home, this is a half day, practical, class ideal for beginners who want to learn how to decorate cakes (not cupcakes) using sugar paste (also known as fondant/ready roll icing).
There's no baking in this class as I will provide you with a 6″ round vanilla sponge to decorate (and take away at the end of the class). We'll start with the basics – how to cut and fill your cake, how to crumbcoat it and then you'll learn how to cover it with sugar paste so you don't get lumps and bumps! Using moulds and cutters you'll make simple sugar paste flowers to decorate your cake.
During this session you'll learn how to:
* layer the sponges before filling your cake with buttercream;
* crumbcoat your cake using buttercream;
* cover your cake with sugar paste;
* make simple sugar paste decorations to use on your cake, and
* decorate your cake drum using sugar paste and ribbon
Numbers are limited to a maximum of 4 and while children (over 14) are welcome to classes, they need to be accompanied by a paying adult. Please note there is NO baking in this class.
Class price and how to book:
This class costs £80 per person and in order to secure your place, payment needs to be made in advance, by bank transfer. Contact me by phone, email, through my Facebook page or use the contact form to register your interest and I'll send you an invoice which has my bank details on for payment.
Forthcoming dates:
Please contact me to ask about forthcoming dates. Most, but not all my classes are held at the weekend.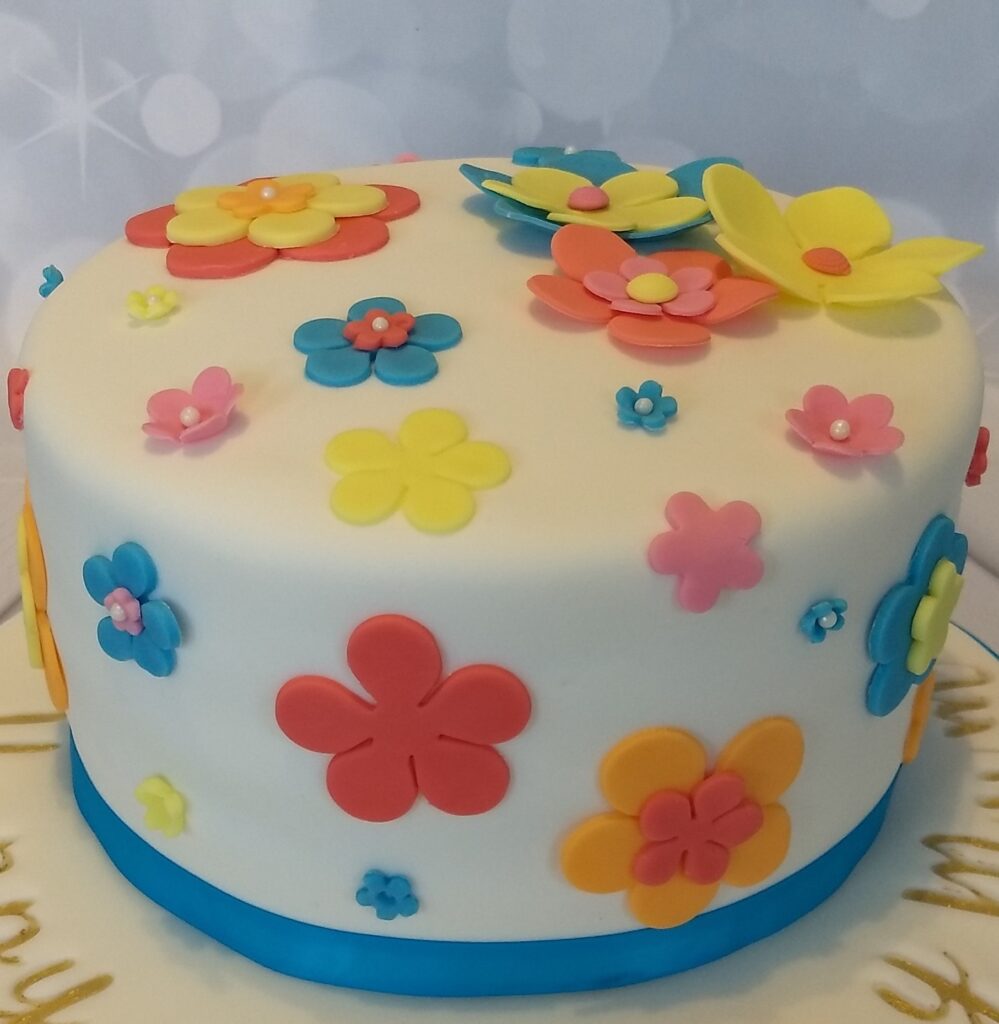 What's included?
Your class price includes all materials, use of Avonside Cakery's tools and equipment. Your finished cake will be boxed up in a food safe cake box for you to take away at the end of the class. While lunch is NOT provided, light refreshments (tea, coffee, squash and cake/biscuits) are.
There's on road parking & other than bringing an apron, everything you need will be provided.
What do I need to bring?
Only yourself and an apron as everything you need will be provided – but if you need to wear glasses for close/detailed work, remember to bring them with you!
As this is a half day course, we'll take a short break for lunch, please bring your own as this is NOT provided.
PLEASE NOTE: This class is held in my home – we have a pet dog although I don't expect he will be seen during the class.